The name Aspull is derived from Anglian sources. 'Asp' (a tree) and hyll (hill) when most of Lancashire before the conquest was either forest or marshland. The earliest historical reference to Aspull is 1212, when it is referred to ploughland suggesting that it had been fairly recently cleared of trees and it's tenants were living by farming. These families were the de Lathoms, Inces and Gerrards. Inthe middle ages the district was the center of frequent disputes between the neighbouring barons and knights such as Sir William Bradshaigh of Haigh, the Radcliffes and the Hollands of Newton and Upholland, all of whom were murdered by their enemies.
Peaceful settlement of disputes was not the custom until Tudor and Stuart times, when the Bradshaighs and the Gerrards were quarreling over the coal pits of Aspull. These, added to the farming of the district , supported a growing population and even an 'ale-house' which regrettably, was not kept in a manner satisfactory to the Magistrates.
There remain in use several of the substantial farmhouses of this period - Kirkless Hall, Gidlow Hall, Pennington Hall, and Highfield House - whose owners in the past were notable Puritans, Catholics and supporters of the Established Church.
The Industrial Revolution increased the demand for coal and greatly enlarged Aspull and brought to it what what was then the worls biggest limited company - Wigan coal and iron company - which boasted that it made everything it needed, ships and railways included. Soon after 1918, however , it was a victim of the trade recession and began to curtail its activities here until it's closure. Now little remains to be seen of the once gigantic works or it's six blast furnaces.
CHANGES IN ASPULL OVER 150 YEARS
as reflected through maps.
In 1796 James Leigh prepared a map for Lord Crawford which is still in the posession of the family and which is drawn on joined sheets of vellum to a scale of 3 chains of 32 yards each to an inch. This is compatible with the Cheshire acre of 10,240 square yards. Many leases of that time, required payment for coal worked to be at a rate of so much per foot thick, per Cheshire acre.
On this map the fields are named. There was no St. David's but the field on which the church was later built, was called Great Francis Moor. The field across the road, behind the school was Brow Hey and Butcher Field later became Butcherfield Row. Down Haigh Road on the left was Barn Hey and Wall Hey (later the site of Wall Hey pit). Haigh, which was then called Lane Ends, consisted of only a few buildings.
The old Hall, (rebuilt 1830 - 1850 by Earl Alexander Lindsay) was fronted by ornamental water and an avenue of trees.
By 1796, the almshouses (The Receptacle) was already built, as well as the Moat House and the old Haigh School. There were numerous small coal and cannel pits but there was a complete absence of tram and rail roads.
The first official Ordnance Survey was made of the Haigh district about 1840 and was published about 1846. At this time Haigh was still named Lane Ends but by now St David's had been built as had the Brewery, the Balcarres Arms, and the Red Lion. There was a smithy near the site of the present Our Lady's and the present Haigh School was built, but much of Brow Hey had disappeared. Haigh Road was still a footpath.
The area had begun to take an increasingly industrial aspect. Haigh Saw Mills at New Springs was connected to Spring's Branch line and there was a railway system extending from the canal to the cannel pit which later became No.5 Moor Pit, and from there to Heathfield Pit. Wall Hey Pit was still working.
To the North there was a railway running South from Grimeford through Aberdeen, passing the coke kilns at Fir Tree House and reaching as far as William Pit, with a branch line down to the canal. There was no Meadow Pit. At Bauk House there were old tramroads to the canal running from Dainty's tunnels to the King Coal Mine.
There was a bleachworks on the site which later became Alexandra and Lindsay pits. Kirkless, (top place) was still just a group of buildings around a coal pit. Marsh House and Woodshaw were still green fields and at the Finger Post there were stocks and a weighing machine.
Brock Mill and Leyland Mill were a forge and a foundry, respectively. Haigh brickworks was in Hall Lane, near Haigh Cottage. There was a large colliery at Arley, a paper mill at Worthington, (later to be the B.D.A. bleachworks) and Aspull Copperas Smelting Works at New Springs.
Dukes Row was then named Fothershaw Row, there was a workhouse near to the Fingerpost and Lower House Farm was described as 'The Lower House'.
By the 1930 edition of the O.S. map, Aspull has become a busy mining center, with Meadow Pit, Crawford Pit, Alexandra, Lindsay and Scot Lane Pits. Pits to the North of Brinks, Abderdeen and Arley have gone but a mineral railway is still shown running through Grimeford Bar.
The Lancashire Union Railway line from Hindley passes Alexandra and Lindsay pits on the way through the plantations to connect with the old North Union Line at Standish and the old Bolton and Preston line at Adlington. Marsh House and Woodshaw have disappeared (spoil heap) and the old No 3 Moor Pit has vanished without a trace. The land had reverted to moorland.
Lower Highfield, in 1846 surrounded by a moat, is shown as remaining. Hilton House has become Hilton Farm and Fothershaw Row has adopted the name, Dukes Row. Haigh is no longer called Lane Ends, Butcherfield Row has been built and Haigh School is now Old Haigh School.
The middle row of the old Arley Collieries now stands alone in the middle of nowhere, deserted by one time industry.
Notes from members Aspull and Haigh Historical Society 1990
HAIGH WINDMILL


In 1838, Sumner the prorietor of Haigh Brewery, requested William Peace, the Chief Mining agent to the Earl of Crawford and Balcarres, to install a pumping plant to deliver water from two ponda in a nearby field to the brewery resevoir. The latter held 56,000 gallons which as a months consumption. Peace calculated that a pump with a four inch diameter ram and stroke of two feet would be suitable. Further calculations by Peace showed that a pump of this size working at ten strokes a minute for four days would fill the resevoir. In fact, if a windmillwas built to work the pump as he recommended, four windy days a month would suffice. Only a small windmill would be required to lift the water the 36 foot difference in height between the ponds and the brewery tank and there was a model of such a windmill at Haigh Hall. Some time previously the water in the ponds had been analysed and found suitable for the purpose ofof brewing.

Apart from the consideration of running costs, a windmill was preferable to a steam engine to drive the pump as, with it being so near to Haigh Hall, a smokey chimney was undesireable. Lord Crawford had complained about the 'vast column of black smoke' emitted from the brewery chimney and he was trying to devise a method of consuming the smoke at the boilers.

The 2 inch diameter pipes required between the windmill and the brewery would cost five shillings a yard. Peace considered that it was advisable to install the pump below ground level ' to guard it from frost and mischievous boys.

Nothing came of this scheme however until June 1845, when Glover the land agent and clerk of the works in charge of the rebuilding of Haigh Hall and the erection of the many other new buildings on the estate wrote to Lord Crawford as follows:

Sumner is about to aommence his windmill . It will be 27 feet to the top in height, 13 feet in diameter at the bottom and 9 feet at the top. I am not aware that Varty mentioned this to your Lordship, but I do not see any objection to the structure for he intends to make it neat.

Since there was a considerable surplus of water it was decided to supply Haigh Hall and some of the houses and cottages on the estate from the brewery resevoir and a 3" diameter lead main, with branches, was laid for this purpose. After 1865 there was also an agreement with the Wigan Coal and Iron Company for a supply of water from the meadow Pit at the North end of Riley lane whenever the windmill broke down.

In 1872 the Wigan Rural Sanitary Authority was set up under the Public Health Act of 1872 and this Authority was charged with providing a public water supply to the householders and industries of Haigh and the other constituent districts.

When this came into being, the brewery took the water it required from the Authority and after 1895, from the Wigan Rural District Council, so that the windmill was no longer required. In any case, the brewery closed before the second world war and since that time the windmill was redundant.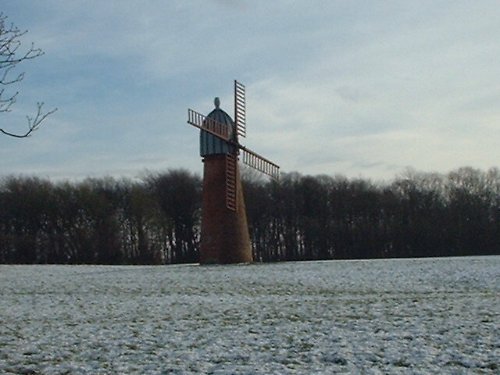 Haigh Brewery


Haigh brewery was a five storey building standing behind the Balcarres Arms public house. The brewery was owned by John Sumner and his family who lived adjacent to the brewery in Haigh House.
Raw materials for brewing were delivered by the mineral railways that criss crossed the area and linked up to the main lines. Rawcliffe sidings in Aspull was the drop off point for the brewery materials. The goods would be off loaded and taken by horse and cart to the top of Haigh Road. In it's hey day before motor transport the brewery had in it's employ, 45 shire horses and 4 ponies.
The Wigan directory for 1869 refers to Henry Rawcliffe, brewer, (John Sumner & Co.). The Rawcliffe and Sumner family were realated by marriage although there was not a seperate Rawcliffe company the family traded under the sumner name. When Augutus Rawcliffe died in 1919 the two companies merged.
Greenalls group took over the Sumner outlets in the 1930's but the actual date of transfer was in June 1955.
1881 Directory
Until 1906 Higher Gullet was what was to become Bolton Road from the Fingerpost down to St Elizabeth's Church
Lower Gullet was from the church down to the beginning of Dicconson Lane
PLACES OF WORSHIP & THEIR MINISTERS
St. David's Church, Haigh. - Rev. Wm. B. Bryan, B.A., vicar
St. John the Baptist Church, New Springs. - Rev. C. H. James, vicar
St. Margaret's Church, Pennington Green.
St. Elizabeth's Church, Higher Gullett. - Rev. Robert Walmsley, vicar.
Independent Methodist, New Springs.
Primitive Methodist.
Roman Catholic. - Rev. Edmund Crook, priest.
SCHOOLS
Aspull New School. - A. W. Foxcroft, headmaster; W. J. Boyd, assistant
National School, Haigh. - Thomas Humphreys, master
Our Lady's School. - Miss Elizabeth Christian, mistress
Wesleyan School. - Samuel Fletcher, master; infants : Miss Catlow, mistress
St. Elizabeth's School. - Frederic Barrs, master
St. John the Baptist. - Thos. Fairhurst, master; Miss Malkin, mistress
St. Margaret's (Infants) School. - Miss Elizabeth Eaves, mistress
Local Board Office. - Louis Athron, clerk; Henry Smith, medical officer; Wm. Clark, inspector of nuisances; Geo. Heaton, engineer; M. W. Peace, law clerk

PRIVATE RESIDENTS
Athron Mr. Louis, White Hall
Birley Henry, Esq., Haigh
Bryan Henry Newton, Esq., Rose Cottage, Aspull
Bryan Rev. William B., B.A., Haigh Vicarage
Chalk Mr. W., Moreland House
Clark Mr. William, Holly House
Cook Luther, Esq., Holly terrace, Haigh road
Crawford & Balcarres Earl of, Haigh Hall
Crook Rev. Edmund, Church street, Haigh rd.
Gerard Major, Aspull House
Heslop Rev. R. C., M.A., Curfew House
James Rev. C. H., 43 Ivy view, Bark hill
Leigh John Esq., Gidlow Hall
Macloghlin John, Esq., surgeon, Culraven House, Haigh
Rawcliffe Henry, Esq., Gillibrand Hall, Chorley
Rawcliffe Mr. W. S., Park House, Chorley
Rawson H. C., Esq., Moat House, Haigh
Seddon Mr. John, The Firs, Aspull
Sumner Mrs. Ellen, Haigh House, Haigh
Walmsley Rev. Robert, Bradshaw Hall

COMMERCIAL
Abbott John, Balcarres' Arms, Lane ends, Haigh
Ainsworth Henry, foreman, Haigh Hall, Haigh
Alker Thomas, blacksmith, Running Horses' fold, Higher gullet
Anderton John, shopkeeper, 38 Scot lane
Armstrong Michael, shopkeeper and beer retailer, 3 Wigan road, New Springs
Aspinall James, shopkeeper and beer retailer, Ratcliffe road
Atherton & Johnson, brewers, Crown Inn, Wigan road, New Springs
Athron Louis, clerk to the board and assistant overseer, White Hall
Attwood Geo, engineer, 39 Ivy view, Bark hill
Balfour David, beer retailer, Bark hill
Balfour Dorothy, beer retailer, 53 Stanley rd.
Barker Jas., carpenter, 35 Ivy view, Bark hill
Barratt William, shopkeeper, 63 Wigan road
Barrs Frederic, schoolmaster, School House, Lower gullett
Barton William, Kirkless Hall Inn, Top Lock
Bell William Edwin, painter and paperhanger, 143 Wigan road
Boardman William, clogger and shoemaker, 44 Scot lane
Bolton Jane, beer retailer, 121 & 123 Wigan rd.
Bostock William Henry, inland revenue officer, 321 Haigh road
Brown James, 43 Ivy view, Bark hill
Burgess Thomas, surveyor, 77 Haigh road
Chadwick Thomas, clothes dealer & insurance agent, 59 Wigan road
Chalk Wm., iron merchant (Thomson & Co.), Moorland House
Christopher Richard, grocer, beer retailer, house agent, and cow keeper, 96 Cale lane
Clark William, registrar of births and deaths, income tax collector, nuisance inspector, school board officer, &c., Holly House
Clarkson Peter, butcher, 49 Wigan road
Collier John, Free Trade Inn, 13 Wigan road
Cook Edward, shopkeeper, 64 Kirkless street
Cook Luther, surgeon, Holly terrace, Haigh rd.
Crankshaw William, draper & grocer, 137 Withington lane
Crewdson William, manager (Albion Iron Works), 45 Ivy view, Bark hill
Croston Edward, dealer in sewerage pipes, &c., 12 School close
Cutler Henry, hardware dealer, 6 Cale Green
Darbyshire James, Red Lion Inn, Haigh road
Dawber Thomas, clogger, 51 Wigan road
Eastham George, clerk and sexton of Haigh Church, and undertaker, Sea View Cottage, Haigh
Eckersley Robt., shopkeeper, 12 Higher gullet
Ellison Jonathan, beer retailer, 7 Bark hill
Entwistle Richard E., clerk, Saw Mills, Haigh
Fairhurst Thomas, schoolmaster (St. John the Baptist), 26 Wigan road
Fairhurst William, grocer, draper, baker and agent to the Prudential Insurance Co., 100 Haigh road
Fletcher Samuel, schoolmaster, School close
Forshaw Richard, shopkeeper, 125 Wigan rd.
Foster Henry, shopkeeper, 83 Scot lane
Foster William, shopkeeper & hairdresser, 79 Wigan lane
Foxcroft A. W., schoolmaster, Cactus Cottage
Foy Edward, cart owner, 128 Cale lane
France James, beer retailer, 7 Higher gullet
Geach Samuel, Packet House Inn (splendid bowling green), New Springs, Haigh
Geary George, dentist, 4 Wigan road
Gibson Catherine, farmer & innkeeper, Crawford Arms Inn
Gibson Henry, shopkeeper and beerseller, Looker's nook
Gibson James, beer retailer, Ratcliffe road
Glover James, shopkeeper and draper, Post Office, 14 Scot lane
Gray Thomas, shopkeeper, 56 Wigan road
Green James, clogger, 34 Wigan road
Green James, beer retailer, 55 Wigan road
Green Mr. Jonathan, 45 Wigan road
Green Samuel, shopkeeper, 47 Wigan road
Green William, joiner, builder and grocer, 15 and 17 Cale lane
Gregory Giles, grocer, draper, and provision dealer, Lane ends
Gregory Henry, blacksmith, Lower gullet
Gregory James, shopkeeper and carrier, 30 Scot lane
Gregson John, overlooker, Marsh House, Higher gullet
Gregson Robert, copperas manufacturer, Withington lane
Grundy Levi, shopkeeper, 207 Lower gullet
Haddock Thomas, shopkeeper, 73 Wigan road
Haigh Foundry Co., engineers & millwrights, Haigh Foundry and Brock Mill Forge, Haigh
Hale Edward, iron manufacturer, Albion Iron Works, Aspull
Hall George, grocer, draper, and baker, 198 Lower Gullet
Halliwell Thomas, grocer & provision dealer, Top lock
Hampson Richard, beer retailer, 22 Higher gullet
Harrison Priscilla, shopkeeper, 148 Withington lane
Hart Gerard, beer retailer, 22 Scot lane
Hartley James, miner, 323 Haigh road
Henley Samuel, farm bailiff, Manor House Farm
Henry Thomas, beer retailer, Haigh road
Hensall Jos., hardware dealer, 81 Wigan rd.
Heyes Joseph, watchmaker, 71 Wigan road
Higham Robert, grocer, &c., Scot lane
Hilton Frances, newsagent, 213 Lower gullet
Hilton James, underground manager, Longhurst House, Haigh
Hilton Thomas W. surveyor, Haigh
Hodkinson Thos., beer retailer, 29 Stanley rd.
Holden E. D., clerk, Holly Cottage, Haigh
Holker Peter, shopkeeper, 47 Liverpool street
Hope Mrs. Elizabeth, Thorn Cottage, Lower gullet
Hope Jas., grocer & draper, 174 Lower guller
Hough James, colliery underlooker, 317 Haigh road
Hough John, beer retailer, Higher gullet
Humphreys Thomas, schoolmaster & organist, Haigh
Jamieson Andrew, head gardener, Haigh Hall, Haigh
Johnson James, shopkeeper and beer retailer, 8 and 10 Lower gullet
Johnson Jonathan, grocer and draper, 70 & 72 Lower gullet
Johnson William, grocer, Wigan road
Jolley Thomas, shopkeeper and beer retailer, 58 Ratcliffe road
Knight William, Royal Hotel, Wigan road
Knowles William, shopkeeper & beer retailer, 22 Ratcliffe road
Latham Richard, wheelwright, Running Horses fold, Higher gullet; house, Scot lane
Latham Thomas, shopkeeper, 137 Cale lane
Leeds & Liverpool Canal Office, Withington lane. - Isaac Wardman, manager
Leigh Alfred, shopkeeper, 28 Higher gullet
Leigh John & Brother, cotton spinners, Dicconson Mill
Leigh Mary, beer retailer, 2 Scot lane
Leigh Roger & Co., Ltd., colliery proprietors, Hindley Hall Collieries. - C. Beazer, sec.
Lever William, shopkeeper, 54 Bark hill
Livesey Robert, clogger, 113 Wigan road
Lomax James, police sergeant, Higher gullet
Lomax Wm., traveller, 12 Lane ends, Haigh
Macloghlin John, surgeon, Culraven House, Haigh
McMillan James, grocer and beer retailer, 32 Longfield street
Makinson Mrs. Alice, 33 Ivy view, Bark hill
Makinson Richd., innkeeper, Running Horses Inn, Higher gullet
Moore Constantine, grocer, draper & provision dealer, Church street, Haigh road
Moore Richard, grocer and beer retailer, 47 Haigh road
Moores Joseph, grocer and beer retailer, 15 Wigan road
Morris Robert, dealer in colliers' tools, 32 Scot lane
Moss Henry, shopkeeper, Haigh
Norwood John, clerk, 37 Ivy view, Bark hill
Parr John, shopkeeper, 63 Longfield street
Parr R. & Co., colliery proprietors, Kirkless Colliery
Paxton James, colliery underlooker, Haigh
Pennington John, grocer and draper, 163 Lower gullet
Pickering William, shopkeeper, 36 Wigan rd.
Pilkington Alfred, clogger, 56 Lower gullet
Pilkington Thos., shopkeeper, 145 Wigan rd.
Pope Matthew, shoemaker and clogger, 64 Wigan road
Powell Charles, manager (Wigan Coal & Iron Co.'s Saw Mills), 41 Woodfield street
Powell Frederick, joiner, builder, & saw mill proprietor, Woodfield st.
Prescott James, shopkeeper, 56 Higher gullet
Rainford William, grocer and draper, 325 Haigh road
Rawson H. C., land agent to the Earl of Crawford & Balcarres, Moat House, Haigh
Roberts Ann, grocer, 29 Bark hill
Roberts David, shopkeeper, 57 Wigan road
Roocroft Thomas, shopkeeper, 9 Bark hill
Rose Margaret, shopkeeper, 7 Wigan road
Sandham Robert Cumpsty, brewer's traveller, 81 Haigh road
Savage Edward, shopkeeper & beer retailer, Withington lane
Seddon Alice, shopkeeper, 13 Scot lane
Seddon James, householder, 319 Haigh road
Seddon John, shopkeeper, 2 Longfield street
Seddon Robert, furniture & hardware dealer, 2 Higher gullet
Seddon William, grocer, draper, and hardware dealer, 184 Lower gullet
Shearer James, manager (Coke Works), Wigan road
Shepherd John, shopkeeper, 61 Wigan road
Shepherd John, shopkeeper, Stanley road
Sherrington Jane, shopkeeper, 44 Longfield st.
Simm Thomas, beer retailer, Bark hill
Simpkin Thomas, shopkeeper, 110 Withington lane
Smalley William, draper, 97 Wigan road
Smith Edward, shopkeeper, 28 Wigan road
Smith Henry, surgeon, Haigh road
Smith James, shopkeeper, 1 School close
Smith Samuel, shopkeeper, 93 Wigan road
Southern Isaac, beer retailer, Dicconson Mill
Southern Jane, beer retailer, Withington lane
Southern Ruth, shopkeeper, 183 Withington lane
Speakman Mrs. Mary M., 13 Lane end, Haigh
Steele Charles, newsagent, 75 Wigan road
Stock John, clogger, 117 Haigh road
Stott Mark, dealer in colliers' tools, 83 Longfield street
Sumner John & Co., brewers, and wine and spirit merchants, Haigh Brewery, Haigh; and malsters, Higher gullet, Aspull
Sumner Jonathan, beer retailer, School close
Sutton James, grocer, 31 Ivy view, Bark hill
Tattley Moses, beer retailer, 104 Wigan road
Taylor John, draper, 185 Lower gullet
Taylor Joseph, butcher, 138 Withington lane
Taylor Richard, shopkeeper and beer retailer, 32 Cale lane
Tickle William, grocer and provision dealer, 18 Longfield street
Topping William, shopkeeper & beer retailer, 119 Wigan road
Tyrer Elizabeth, Commercial Inn, 139 Cale lane
Urmston James, grocer, draper, & postmaster, Lane ends, Aspull
Wall George, shopkeeper and Post Office, 99 Wigan road
Walls James, shopkeeper, 30 Scot lane
Walls Thomas, shopkeeper and beer retailer, 51 Scot lane
Whittaker H., beer retailer, 82 Lower gullet
Wibberley Abraham, manager, Dicconson Mill
Wigan Coal & Iron Co., Limited, coal proprietors, Aspull; chief offices, Kirkless Hall, Ince
Wilcock John, clogger, Wigan road
Wilkinson John, shopkeeper, 40 Scot lane
Willey James, beer retailer, Aspull
Winnard William, shopkeeper, 32 Wigan rd.
Winrow John, beer retailer, Wigan road
Wood John, foreman joiner, 79 Haigh road
Woodhall Henry, shopkeeper, 154 Withington lane
Worrall Isaac, Gerard's Arms, Dicconson Mill
Worrall William, beer retailer, 38 Ratcliffe rd.
Worsley William, shopkeeper, 70 Longfield st.
Wylie Thos., bookkeeper, Riley House, Haigh
Young William, shopkeeper, 28 Scot lane

FARMERS
Atherton James, Marsh House Farm, Higher gullet
Balfour Mary, Hilton Farm
Bromilow Thomas, Woodshaw Farm
Brown David, Haigh
Brownlow James, Green House Farm, Haigh
Churchouse Elijah, Haigh
Clively James, Lane ends
Coates Wm., Ainscough Farm, Higher gullet
Collier Jeremiah, farmer, Friezeland Farm, Haigh
Ditchfield Thomas, Bradshaw Hall Farm
Dickinson Rober, Haigh
Farrington John, Aspull Moor
Gibson George, Moppin Fold Farm
Gregory Richard, Lower gullet
Grundy Peter, Scot lane
Hall George, Shaw's Fold Farm, Higher gullet
Hampson John, Bagshaw Lane Farm
Hindley John, Pennington Green
Holcroft John, Aspull
Hunt Charles, CottageFarm
Hunter Robert, Withington lane
Johnson Henry, Aspull
Johnson William, Aspull
Latham Mrs. Rachel, Scot lane
Latham Richard, Pennington Green
Leech Robert, Aspull
Leigh John & Brothers, Dicconson Mill
Mawdsley Joseph, Willoughby's Farm, Haigh
Mayor Thomas, Toddington Farm
Moat Richard, Haigh
Molyneux John, Bagshaw Hall Farm
Monks James, Aspull
Pimbley Daniel, Bark hill, New Springs
Prescott Thomas, Gullet
Seddon John, grocer, 2 Longfield street
Smith James, Lane ends
Spencer The Misses, Hart's Farm, Haigh
Walsh Charles, Gullet
Wilson Thomas, Tucker's Hill Farm, Haigh
The Pumping Pit
ASPULL PUMPING PIT (Text obtained from Wigan Coal & Iron by D Anderson)
Aspull Pumping Pit
Director's half yearly report:
Aspull Pumping Pit has been commenced at Aspull for the purpose of draining the Cannel and King Coal Mines and concentrating the several pumping establishments now at work for that purpose. This will be more efficient and more economical. By an agreement with W Woods & Son, and in consideration of an annual payment to the company (£500), the water from Wood's Scot Lane Colliery will be pumped at this new pit.
The pit shaft was 21ft diameter and a wagon road had been laid to it from the sidings at No5 Moor Pit. A waterway was constructed in the King Seam from Scot Lane Pits, past Woods No4 Cannel Pit to the new pump lodges in the King Coal at the pumping pit.
In December 1872 it was stated that 'the quantity of water has been greater than we anticipated'. Three large, direct acting steam engines with inverted cylinders were erected to work the 20-inch diameter ram pumps at this pit.
The water in the Cannel was good clean water suitable for steam boilers and it was pumped to the surface by the ram worked from an offset on the spear rods. It was used for the locomotives and for the boilers at the pit.
All three engines were fitted with condensers and the three pumps delivered through 16-inch diameter cast iron pipes against a vertical head (after the collapse of the sough tunnel) of approximately 180 yards.
By December 1876 the whole job had been completed, including the engine houses, the winding, the capstan engine, the head frame, the gantries and all the boiler plant. The latter in 1895 consisted of 5 Lancashire boilers. A mining engineer with the Wigan Coal & Iron Company, Ernest Holt, said that these great pumping engines made a big noise when working, snorting, groaning and shaking everything when the pistons came to the end of their stroke.
A report from Mr A Bertram, the Chief Engineer to Mr J Hilton, Head Surveyor and Mining Engineer, stated that for the year 1883 the 60 in engine had pumped 172,525,540 gallons from the King Coal and 63,847,219 gallons of clean water from the Cannel. Mr e Mawdesley formerly of the Coal Board, worked at the Pumping Pit as a boy and said the water from the Scot Lane area flowing past NO4 Pit to the underground pump lodges resembled a river in spate.
In 1886 a problem arose with Park Hall or Arley Main Colliery, Blackrod. This had been worked for upwards of 20 years by Ridgeway & Co under Roger Leigh's estate. By November 1885 the seams were becoming exhausted and Ridgeways gave notice determining the lease. Wigan Coal & Iron Co then decided to take over the colliery in order to continue working the pumps until an aqueduct had been constructed to convey Ridgeway's water through Scot Lane workings to Aspull Pumping Pit. The make of water at Ridgeways was 210,000 gallons per day. They had worked to a fault under Red Moss at Horwich. This moss has been described as 'notorious'. The waterway from Ridgeways to Scot Lane No5 to connect with that from Scot Lane to Aspull pumps was made under an agreement between Wigan Coal & Iron Co and Elias Dorning, part owner of Park Hall Estate.
Two parallel roads 6ft wide were to be driven in the King Seam. Rock tunnels through a 10yd fault to Ridgeways pumping pit connected these. From Dorning's estate the water ran downhill in roads in the King and along a tunnel through a 25yd fault near Scot Lane No1 shaft. Through the fault and exactly opposite was the Canel mine. The water was then led down the shaft from the Cannel mouthing in rectangular wooden spouts to a waterway running due south in the King Coal below. This ran past the Scot Lane No4 Cannel Pit, downhill into the underground lodges of the Aspull Pumping Pit.
At the Pumping Pit there were three Siemens transformers in the sub-station building, a separate cable running from each of these to each pump underground.